Apartment Developer Turns 'Laundry Guy' in Southern California
September 2019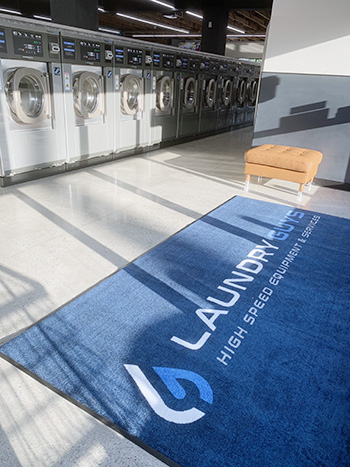 "I'm in the business of making people's lives easier and more convenient," said Bill Mylonas, an investor/developer of large, multi-family apartment complexes in Southern California. "Everyone needs a place to live and everyone has to do laundry. The key to success is to do it better than the competition through superior equipment, facilities, business policies and customer service."
By "doing laundry better" Mylonas better serves his apartment tenants and community alike. In the process, he outshines the competition and gleans customer loyalty.
Laundry Guys Opens for Business
Recently, Mylonas opened his first vended laundry, in Signal Hill, Calif. Equipped with high-speed Continental laundry equipment and offering free WIFI, big-screen televisions, ample parking, automatic sliding door, snack machines and a comfortable lounge area, Laundry Guys is uber-committed to a superior customer experience.
"We have white quartz countertops, USB charging stations, unbelievable bathrooms with full tile wainscoting, and leather modern sofas with acacia wood tables and benches around the store," said Mylonas. Outfitted for efficiency and a comfortable environment, Laundry Guys touts four rooftop coolers, two 7-foot diameter Haiku fans, LED lighting and on-demand, tankless water heaters.
"Laundry Guys was thoughtfully created by a person who learned first-hand how to 'do laundry better' while working within the multi-housing sector," said Tod Sorensen, vice president of Continental Girbau West (CG West), in Santa Fe Springs, Calif. "Bill applied the knowledge he gained from rehabbing apartment laundries to his new store. This resulted in near-instant success."
Borrowing on Experience from Multi-Housing Sector
"I wanted to offer apartment residents a more convenient laundry experience," agreed Mylonas, who upgraded several apartment laundries with high-speed Continental washers and dryers. "My hope — to better serve and retain tenants — resulted in six-fold increase in laundry revenue."
That's when Mylonas pledged to "do laundry better" within the public sector, as well. He hunted locations; purchased an old, run-down building with a non-salvageable, dilapidated laundry; orchestrated a major renovation; and two years later, Laundry Guys was born.
Together with help from Detlef Steinke of Detlef Steinke & Associates, Kevin Friedman of Engineering Design Analysis, and Sorensen, Mylonas purpose-built the building to create the best possible laundry experience and functionality.
Since its soft opening in May, Laundry Guys' revenue has jumped 15-20 percent month-over-month with little advertising. Nonetheless, above-and-beyond customer service and a 60-minute wash completion promise is quickly growing market share.
Ultimately — following a phased business plan — Laundry Guys will offer multiple services, including wash/dry/fold, commercial laundry services and pickup and delivery. For now, the focus is on building a quality customer service team.
First Order of Business: Quality Customer Service
"We look for employees who come from a customer service background, not a laundry attendant background," said Mylonas. "This requires an investment in tools of the trade, uniforms, training and positive reinforcement to help our team hit their goals and make the laundry the best it can be."
It's important, he added, that the Laundry Guys staff provide helpful advice and articulate how customers benefit from their experience there. "We tell our customers that they are fortunate to have found a laundry with the best machines available on the market," he said. "Then we tell them why. The response has been superlative."
High-Speed, Soft-Mount Continental Equipment Mix
Pleased with the reliability, efficiency and performance of the Continental equipment at his apartment laundries — which complete 6-12 cycles a day — Mylonas outfitted Laundry Guys similarly.
The spotless, 4,000-square-foot store showcases a mix of 20-, 40-, 60- and 80-pound capacity Continental ExpressWash® Washers and 30-, 45- and 75-pound capacity ExpressDry® Dryers. The laundry's high-speed washers offer a soft-mount design for simple installation and deliver extract speeds up to 400 G-force for maximum moisture removal. This cuts resulting dry time by up to 50 percent, which decreases natural gas consumption and dryer wear-and-tear, according to Sorensen. In the end, the high-speed washers allow customers to complete laundry in less than 60 minutes — improving customer turnover.
"Our average dry time is 16 minutes," said Mylonas, "which frees up the dryers quickly so we can keep customers moving in and out of the store. This makes it possible to complete 12 plus turns in a 16-hour day."
ProfitPlus® Extras
Adding to customer convenience is the Continental ProfitPlus® Control. The control, which is standard on all Continental vended washers, brings more washing options and cycle features to the customer. It offers four primary cycle options, including HOT, for whites; WARM for colorfast and permanent press items; SUPERWASH for heavily soiled laundry; and COLD for colors. It also features optional "extra" cycles so customers might add an EXTRA WASH, EXTRA RINSE and/or EXTRA SPIN. Each time a customer selects an "extra," it vends for an additional 49 cents, according to Mylonas.
"We love the control as it's not just about the extra money; it's about the opportunity to offer a custom experience based on individual preferences," he said. "Our customers love the ability to tailor the wash process to their specific needs."
Card System Delivers Store Management and More
Moreover, the Card Concepts Inc. (CCI) LaundryCard system brings customers simple equipment operation and payment, while providing Mylonas with multiple store management capabilities. Customers simply load value onto a loyalty card — using cash, debit/credit or ApplePay — and then use the loyalty card to operate equipment. Meanwhile, Mylonas accesses the system to program machines, run promotional specials, alter vend pricing, and track everything from daily revenue to average turns.
Thus far, the laundry's 20s and 30s turn 6-12 times per day, while the 60s and 80s turn 2-4 times daily on weekdays and up to 6 times daily on weekends. "From an operations perspective, I favor the larger machines as they increase our revenue significantly over the smaller machines and open up conversion to load-and-go and fluff-and-fold customers," said Mylonas. "I feel it is matter of layering the advertising to expand our reach and those machines will become our top sellers."
Still in its infancy, Laundry Guys is turning heads along a busy section of Pacific Coast Highway. In coming months, as his staff gains experience and training, Mylonas will bring on other offerings, including wash/dry/fold, pick-up and delivery and commercial laundry services. "Our community wants and deserves the type of experience we are providing," he said of Laundry Guys. "If we take care of the fundamentals first, the money will come and we'll enjoy a solid following of loyal customers."
| Equipment | Vend Price |
| --- | --- |
| ExpressWash 20s | $2.98 - 3.77 |
| ExpressWash 40s | $4.98 - 5.77 |
| ExpressWash 60s | $6.98 - 7.77 |
| ExpressWash 80s | $9.28 - 10.07 |
| | |
| ExpressDry 30s | $0.30 for 8-minute cycle |
| ExpressDry 45s | $0.45 for 8-minute cycle |
| ExpressDry 75s | $0.70 for 8-minute cycle |