Is It Time to Turn On Auto Injection? Yes!
October 2018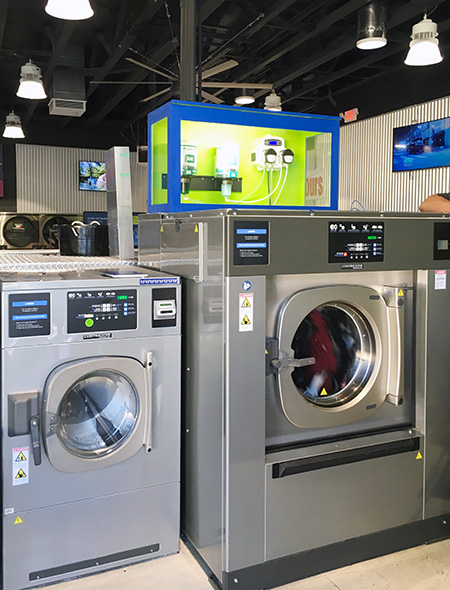 Unlike competitive brands, all Continental vended washers are equipped with automatic chemical injection capabilities, including hard-mount and freestanding machines. By utilizing this feature on a few vended washers, owners can set their vended laundries apart and boost profits, according to Tod Sorensen, Continental Girbau West (CG-West) vice president. Ultimately, it's a decision made by the laundry owner.
"It's a simple change," said Sorensen. "A CG West service technician can activate the automatic chemical injection feature and supply the perfect mix of Anderson cleaning chemicals." Customers just load and press start. They don't bother with lugging detergents and owners can charge more for the chemicals and convenience."
Doing so offers significant benefits. Self-service laundries can substantially increase profit potential without a complete equipment overhaul, and owners attest, customers love the convenience, quality results and quick turnaround. Customers simply load and press start. The washers are programmed to combine the right chemicals at the right time and water temperature during each bath.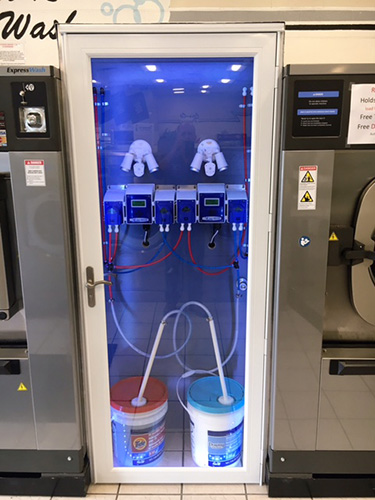 Mark Mariani, owner of Pearl Laundromat, in San Diego, just turned on the automatic chemical injection feature on one of his 90-pound capacity ExpressWash® Washers. That machine has since doubled its average turns, from six to 12. "It's much more profitable," said Sorensen.
Similarly, Phong Duong, owner of National Laundry and Dry Cleaning, in San Diego, replaced four 20-pound capacity ExpressWash Washers with two 90s and set them up with auto injection. "Customers love them," he said. "The new ExpressWash 90s bring customers a high-quality wash in 32 to 40 minutes; make National Laundry and Dry Cleaning unique; and boost revenue in the process, according to Duong. He showcases the injection system and detergents in a clear Plexiglass cabinet underneath a folding table. "That way customers can see how it works," he said. "The machines are big and the detergent injection is really convenient. Most other stores don't have that."
But, it's a growing trend in stores equipped with Continental washers, according to Sorensen. "Only Continental vended washers come standard with auto injection capability. No other brand offers that. So if you own a Continental laundry near a Speed Queen, Dexter, Maytag or Electrolux laundry, you will stand apart."
If you are interested in getting started with automatic chemical injection, contact CG West or call 866-950-2449. It's quick, simple and affordable.